Regular price
Sale price
$30.00 USD
Unit price
per
Sale
Sold out
Share
Cypress Mountain is a local mountain that dominates the Vancouver horizon. Here you can hike, ski or snowshoe, and explore the remote trails surrounded by nature. It's an incredible place to find peace in nature so close to the city. The Hollyburn Lodge is a unique and cherished West Vancouver landmark.
The Hollyburn Lodge is a unique and cherished West Vancouver landmark. The lodge sits on the western shore of First Lake and is connected to a network of ski and hiking trails that wind through the hemlock, cedar and fir forests of Hollyburn Ridge.
Made in Canada with love.
High-quality digital wall art printed on textured felt FSC® paper from responsible sources.

Shipped in a flat compostable protective sleeve.
View full details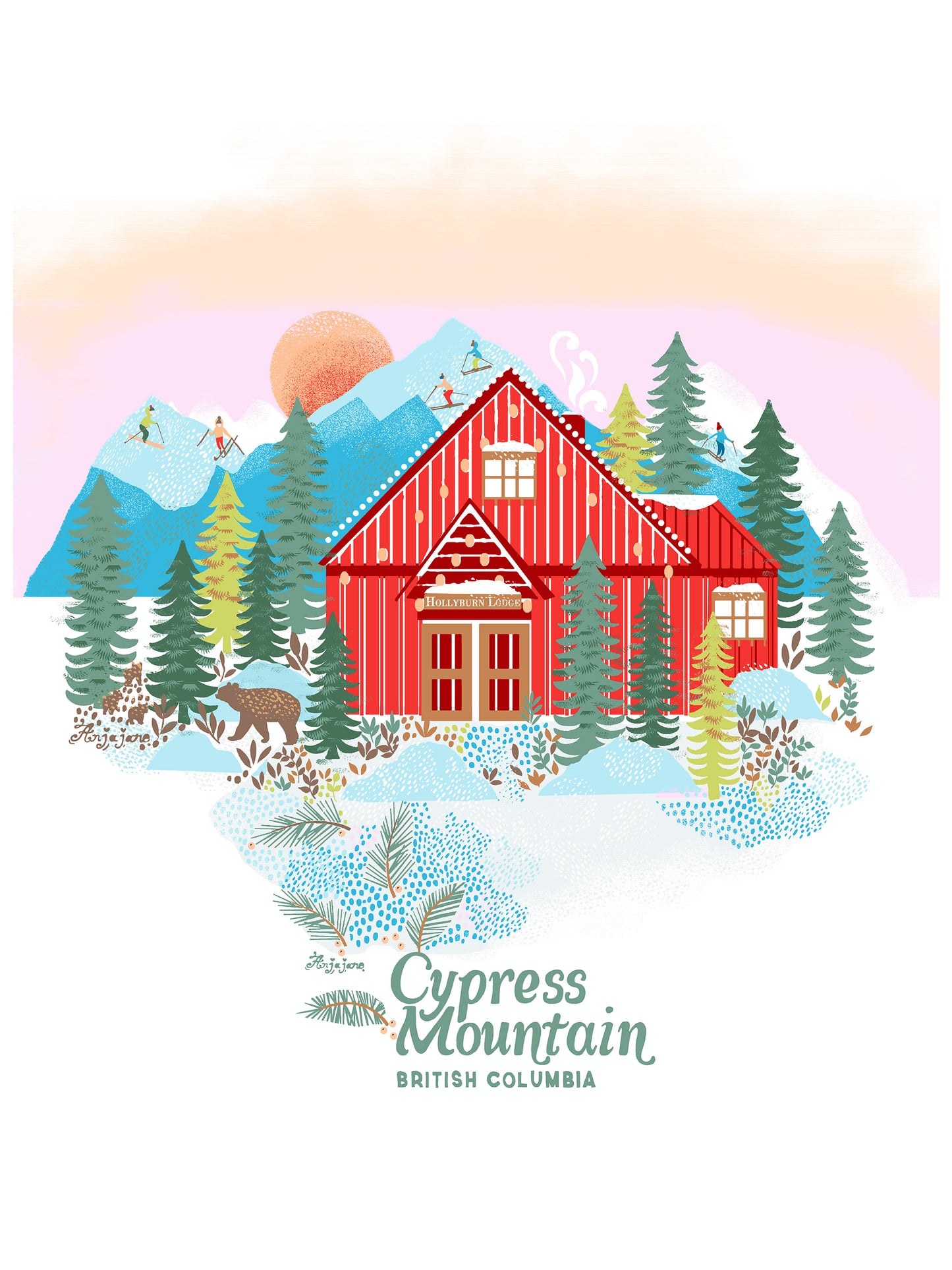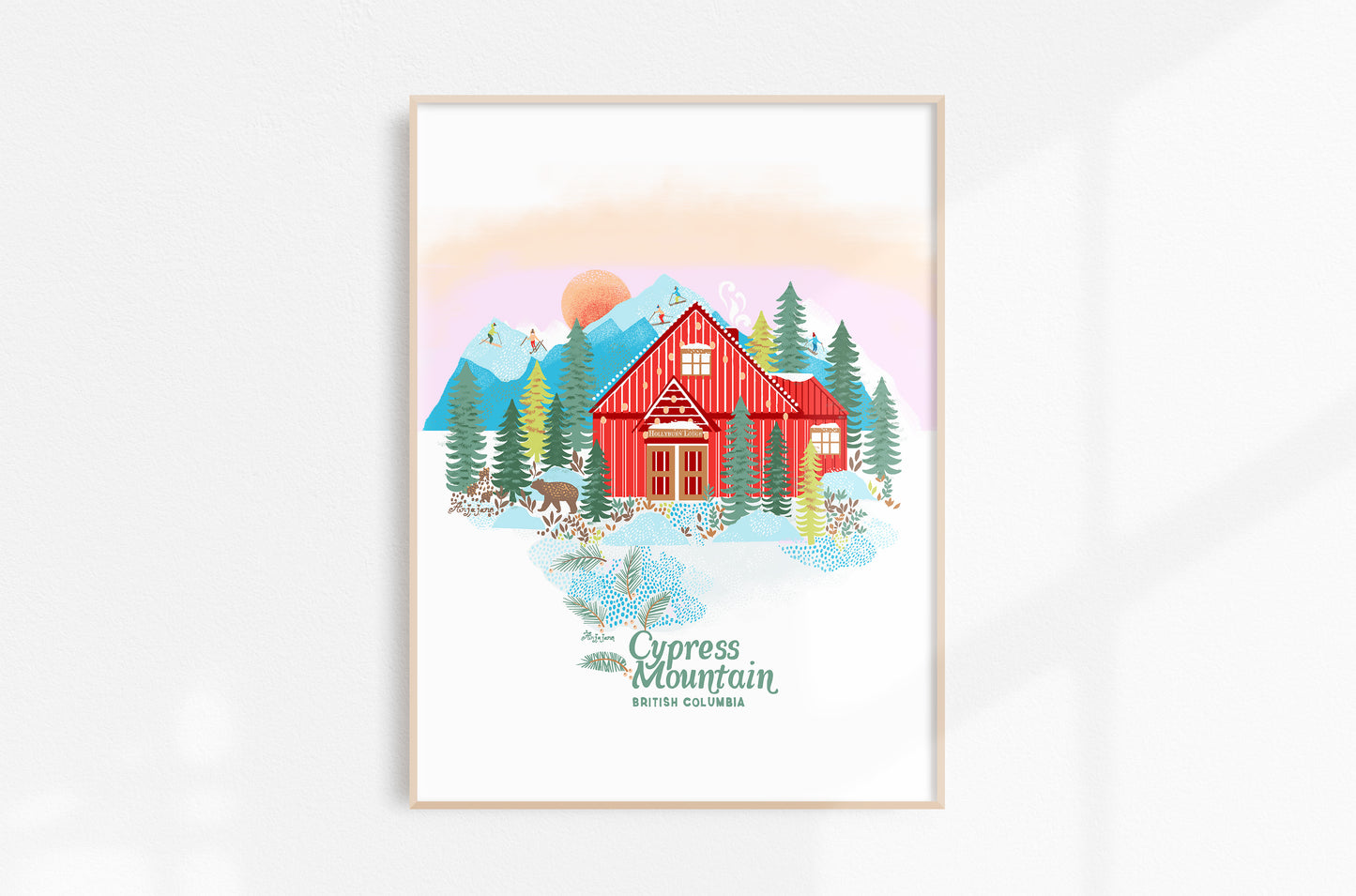 Hollyburn Charm!
I love this print so much! It is beautiful and cozy winter art.
Great !
Looking great and the order came fast even though I live in Europe ! Thanks !
Image that celebrates local mountains and culture
I love how this beautiful print celebrates the local mountains and xc skiing culture with the lodge as the main focus. Love the color of the print and it makes me happy looking at it when I'm home dreaming about winter skiing or summer hiking.
Thank you Anja Jane for your creativity
Cypress Mountain
Beautiful piece of art that is very complimented by visitors! Thank you
Cypress Mountain
Came across Anja Jane's art work quite by accident. We don't live in Vancouver, but spend a substantial time visiting. On our winter visits, skiing and snowshoeing at Cypress are always scheduled into our itinerary. On our most recent visit, in March, we stopped in at the lodge for coffee and a 'sticky bun'.
Upon leaving the lodge we spotted a 'catchy print' near the exit. Upon a closer look, we realized that this artist was not only accomplished, but expressed accuracy and passion in her work.
Upon arriving home, we researched via the internet, and ordered 2 prints. One for our son-in-law's birthday, as he spends every Saturday at Cypress with his young family, who are involved with ski league. And, one for ourselves. Both mounted in plain white Ikea frames. They are fabulous!
My hope is that Anja Jane comes to the Okanagan to capture some of our iconic sights, and, some of our everyday (ho hum) sights that maybe get missed by local eyes.
In summary, the Cypress print is 'eye catching beautiful'.
We look forward to following the career of this 'west coast' artist.
Wow Greg, I'm bowled over by your kind words I'm so happy my passion for the Pacific northwest comes across. Hollyburn lodge is close to my heart as it's where I learnt to ski. I've been to the okanagan and i have a kettle valley cycle illustration on my drawing board. Thank you